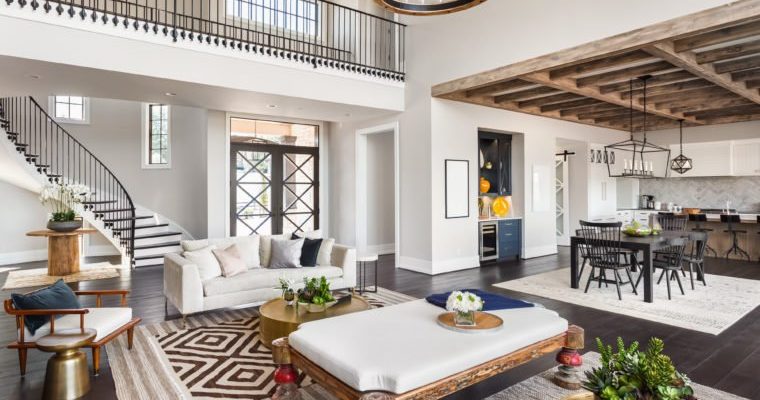 Professional organizers reveal some unexpected things they never do when keeping their own homes neat and tidy.
Clutter-busting habits make all the difference between a messy home and a tidy one. So the first thing a professional organizer does is find a place for every single thing—then keep it there. This doesn't mean purchasing sets of matching bins or decanting all your pantry foods into clear glass containers with hand-printed labels. FYI—these are the Container Store items professional organizers actually buy, and pretty pantry decanters aren't one of them. Rule of thumb, if an organizational system (like decanting) actually increases the time and effort you'll have to spend spend keeping things tidy, ditch it. Read on for more things professional organizers never do:
Instead of assuming you must always alphabetize for easy access, try storing things by frequency of use. For example, those nesting mixing bowls that you frequently reach for should be kept on a low shelf and that crystal vase that you break out every Valentine's Day should go higher up. This goes for smaller things like spices, too. "I never alphabetize my spices, because I don't use allspice as often as I use thyme." explains workplace productivity expert Susie Hayman.
Speaking of spices, Vicki Norris, organizing expert and "life reclaimist" of Restoring Order tells us she never comingles sweet and savory spices on the same shelf. Why? Because "on a bleary-eyed morning, no one wants to accidentally put chili powder in their oatmeal instead of cinnamon!" You won't know how you lived without these 41 kitchen organizing ideas.
To avoid letting unused things pile up, Tamah Vega of Tamah Vega Design has a rule we can all get on board with, "Never go without a donation bag in the house ready for items you no longer need." This way the minute you decide you're ready to donate the item, you can have it ready to go. Consider adding these 10 bizarre things you didn't know you could donate to the bag.
After downloading a file, Andrew Mellen, author of Unstuff Your Life! immediately renames it and saves it in the appropriate folder. This way you avoid wasting time trying to remember its name or where to look for it next time you need it. Read on for additional tips to organize your computer desktop.
"I deal with it all as soon as I get it," explains Jessica Dolan, owner of Room to Breathe. She sorts, tosses, and shreds junk mail, then immediately deals with whatever remains. You can also eliminate junk mail before it even gets to you; learn how you can make your mailbox a junk-free zone.
Move items—like those books to return to the library or returns you are taking back to the store—from house to your car trunk immediately, shares Amy Trager, certified professional organizer. "If they're already in my car, I'm more likely to get them taken care of," she says. Keep car clutter to a minimum too and you'll always have room to store. Don't miss these 15 things you should never leave in the car.
Once you have made a decision to replace an item, let the original go, suggests Birdie with Birdie Brennan Custom Closets & Organizing, LLC. Her rule, "never keep something that you have replaced." That's especially true for tech items you've upgraded—here's how to recycle or donate your outdated devices.
Instead of storing reusable bags in the house, Sheryl Hadley, president of Organization & Relocation, puts them right back in her car after every use. This way you won't forget them when you go to the store and you won't have a messy pile of bags cluttering up your mudroom. Win win.
When you switch purses, empty the current one out completely, Vega advises. Otherwise, you might lose track of your favorite lipstick—or that license or credit card that never made it back into your wallet. While you're at it, remove these 12 items you should never carry in your purse.
https://www.rd.com/home/cleaning-organizing/things-professional-organizers-never-do-their-homes/